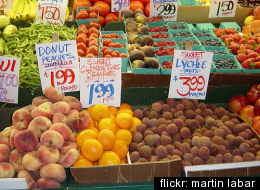 Continued from prior post
8. Peppers, onions, celery, scallions and tomatoes can be frozen. Thaw and use them in baking and in soups.
9. Potato and sweet potatoes, place in a brown paper bag. Put in a dark, cooler room. Potatoes should last for several weeks. Sweet potatoes contain more sugar, so they break down quicker than regular potatoes.
http://saveyourmoneysaveyourfamily.com
my book will be out spring of 2010
Read the Article at HuffingtonPost